While on our Holy Week trip to New Mexico, I got to see lots of great religious art!
I've figured out that I fell in love with my two favorite religious art styles back when we used to live in Albuquerque, 15+ years ago. I came to appreciate the over-the-top realness of the
Mexican-style bloody crucifixes, showing Jesus' broken knees, and the crown of thorns in vivid detail
. I think of the Colonial Spanish style, so prevalent in New Mexico, the same way: bright colors, and lots of blood.
The second style, that I saw a lot in New Mexico, in both Pagan and Christian
religious art works, is devotional. Home shrines were starting to become popular back in the day, and the field has just expanded so much. When we first moved out to NM, without a place to stay, nor jobs in hand, we stayed with
Suzanne Sbarge
who was working on small devotional shrines. Since then, she has been exhibiting at galleries, including
Nu Art, on Canyon Road in Santa Fe
. Yay! I love the direction her work has taken - see above. Way to go, Suzanne!
During this April trip, our first stop after we got off the plane was for lunch at the
Frontier
, of course. After that we checked in to our hotel and walked around Albuquerque's Old Town. I got to stop in to "Santisima" which features lots of New Mexico religious artists. I picked up a few pieces there that I just love. First, a
bottle cap brooch
by
Goldie Garcia
. And then, a poster of "
Loteria
" cards by
Brandon Maldonado
. Amazing, right?!? I especially love "
La Mariposa
."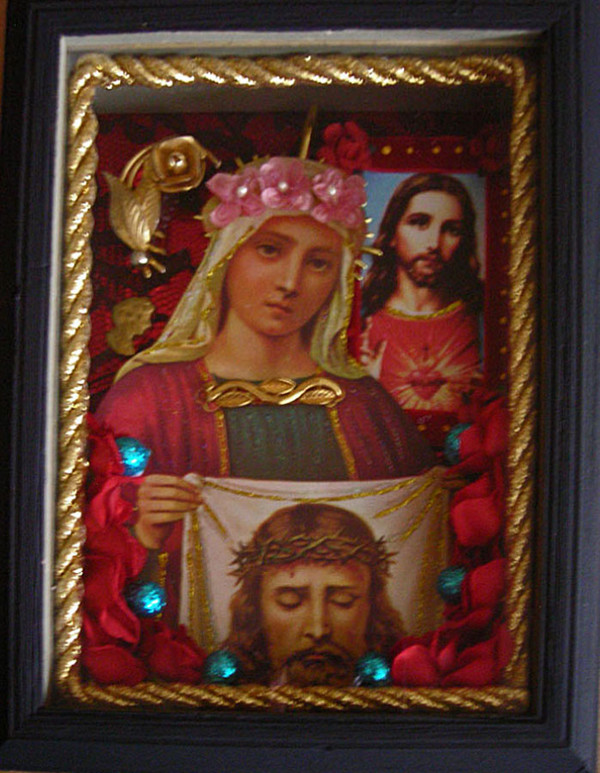 Finally, the piece de resistance was "
La Dolorosa
" by
Johnny Salas
, which is similar in style to his piece, "
St Veronica,
" below. He was behind the cash register when we walked into Santisima, and he was super friendly and helpful. He filled me in on the artists in the New Mexico religious art scene. We talked about how he and his mom were preparing to do the pilgrimage to
Chimayo
on
Good Friday
, and so if I wanted to get my religious art shopping done, I needed to do it NOW! Well, I was happy to oblige, I can't lie.
It was a great trip for me! If you are into religious art like I am, please be sure to check out the work of these artists!!!