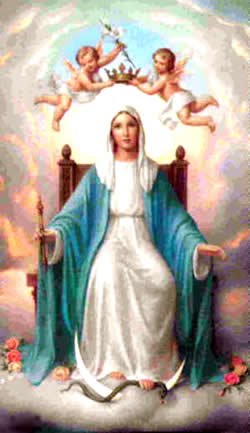 Sometimes the Universe keeps sending us messages, and it takes a while for us to get around to acting on them.
Frequent readers may remember that I have become
more and more radicalized
over the past few years, and have become interested in "Liberation Theology." I say "interested" but I haven't cracked a book about it, and I don't really know yet all that the term means, except that I got a glimpse yesterday, and am inspired.
Our church's pastor is on vacation this summer, and yesterday we had one of my favorite fill-in priests serve: Fr. Richard Smith. He's the one who closes each mass with a benediction that is
his re-phrasing of part of Paul's letter to the Romans, which I absolutely love
. Anyway, yesterday our church celebrated the
Feast of St Mary the Virgin
(something that never would have happened in the parishes I grew up in, which were "
low church, Episcopalian
").
Fr Smith talked about how the Virgin Mary is pretty unrecognizable as a person - she has "become a What not a Who." He said most of what we know about Mary is tradition. But in the Gospel reading yesterday, we "hear her voice" in the
Song of Mary
[
the

Magnificat
,
Gospel of Luke
(
Luke 1:46-55
).] I guess I've never paid much attention to the words before, but here they are:
46And Mary said:
"My soul glorifies the Lord
47and my spirit rejoices in God my Savior,
48for he has been mindful
of the humble state of his servant.
From now on all generations will call me blessed,
49for the Mighty One has done great things for me—
holy is his name.
50His mercy extends to those who fear him,
from generation to generation.
51He has performed mighty deeds with his arm;
he has scattered those who are proud in their inmost thoughts.
52He has brought down rulers from their thrones
but has lifted up the humble.
53He has filled the hungry with good things
but has sent the rich away empty.
54He has helped his servant Israel,
remembering to be merciful
55to Abraham and his descendants forever,
even as he said to our fathers."
Fr. Smith went on to talk about the parts that I've highlighted by quoting from
Robert McAfee Brown's book,

Unexpected News: Reading the Bible with Third World Eyes
. He read about a conversation between a priest in South America who was talking with some local parishioners about Mary.
You should read the chapter yourself [pgs. 86-88]
, go and read it now and come back, I'll wait.
As you know, I'm a huge fan of religious art, and I've seen zillions of images of "Mary of the holy pictures: standing on a crescent moon, wearing a crown, rings on her fingers in a blue gown embroidered with gold." But, after reading and hearing "her" words (above) would she really be like that? I paraphrase Brown's boo
k:
"The Mary that said that God 'has exalted those of low degree' would not have left all of her friends so she could stand on the moon." "The Mary who said God 'Has put down the mighty from their thrones' would not be wearing a crown." "The Mary who said God 'has sent the rich away empty' would not be wearing rings on her fingers." .... "Father, it may be awful to say this, but it sounds as though Mary would look just like me! My feet are dirty, my hat is old, my hands are rough, and my clothes are torn..... I think she'd be more at home here in the slum with us than in the cathedral or the General's mansion.... I think her message is more hopeful for us than it is for them. They are mighty and rich, but she tells them that God puts down the mighty from their thrones and sends the rich away empty.... And we are at the bottom of the heap and very hungry, but she tells us that God exalts those of low degree and fills the hungry with good things." Priest: "Now let's see, how could we begin to help God bring those things to pass?"
There were tears running down my face. There is a lot of suffering in the world. What can I do to feed the hungry? I am keeping my eyes open for more holy pictures of Mary, and see what she looks like. Who is pictured there?
And I will read all of
this book
.
Another take on the same idea:
Mother of the streets
.